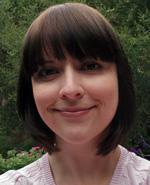 Graduate Students not in Residence
Specialization
:
Research Interests
Moral Psychology
Hume
Aristotle
Education
:
Colorado State University
Bio
:
I love dogs. I love science, robots, zombies, slugs, snails, and art with birds on it. I like looking at spiders and trying to identify them. I am almost always drinking an iced latte.
Research
:
I got my BA and MA at Colorado State University, where I was most interested in applied ethics and philosophy of mind.
I'm currently thinking about moral psychology and virtue ethics.