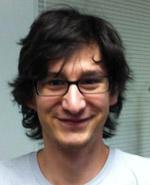 Specialization
:
Research Interests
Epistemology
Rationality
Transcendental Arguments
Education
:
Arizona State University (Physics, Philosophy)
Bio
:
My interests outside of philosophy include music (Tom Waits!), basketball (Phoenix Suns!), and television (Breaking Bad! The Wire!).
Research
:
The 2011-2012 school year will be my second year at UCSB. At the present time, I am considering pursuing issues in epistemology. Other interests include paradoxes (viz., the pop quiz/surprise examination paradox), persistence through time, and intention in action.
The fall 2011 quarter will be my first time teaching, although I have experience in tutoring math and grading math, physics, and philosophy.